Hét reisagentschap van Beveren en het Waasland
Joly Travel
Doorlopend open
ma-vr: 09u00 - 18u00
za: 09u30-17u00
Tel: 03/755 01 74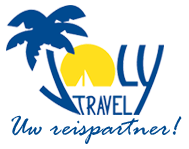 overzicht weekskiën
Skireizen voor 1 week
Weekreizen 2016-2017
De reis met de autocar
Er wordt altijd 's nachts gereisd. Extra ontbijt, lunch, diner. Bij aankomst krijgt u een ontbijt of lichte lunch. Bij de formule half- of vol pension krijgt u voor de terugreis een licht diner. Beide zijn begrepen in de prijs indien vermeld.
Skipas
Is altijd in de prijs begrepen. We vermelden voor hoeveel dagen en in welk skigebied (sommige skigebieden hebben immers verschillende formules). Bij verlies moet u zelf een nieuwe skipas kopen.
Huur ski- of snowboardmateriaal
De huur van ski- of snowboardmateriaal is nooit inbegrepen in de prijs, maar bij boeking kan je wel aanduiden indien je materiaal nodig hebt.De huurprijs wordt ter plaatse afgerekend.
Fooien en taksen zijn in de prijs begrepen.
Extra kosten
Kosten voor bijstandsverzekering, ski- en snowboardlessen, begeleiding voor de reizen voor niet-skiërs en skischool voor kinderen zijn nooit in de prijs inbegrepen.
Kortingen
• Eigen vervoer: wie met eigen vervoer reist, krijgt een korting van € 65 per reiziger. Is de bus volgeboekt waardoor
u met eigen vervoer moet reizen, krijgt u nog een extra korting van € 40 per persoon
Bekijk hier de brochure voor meer info over de voorgestelde skireizen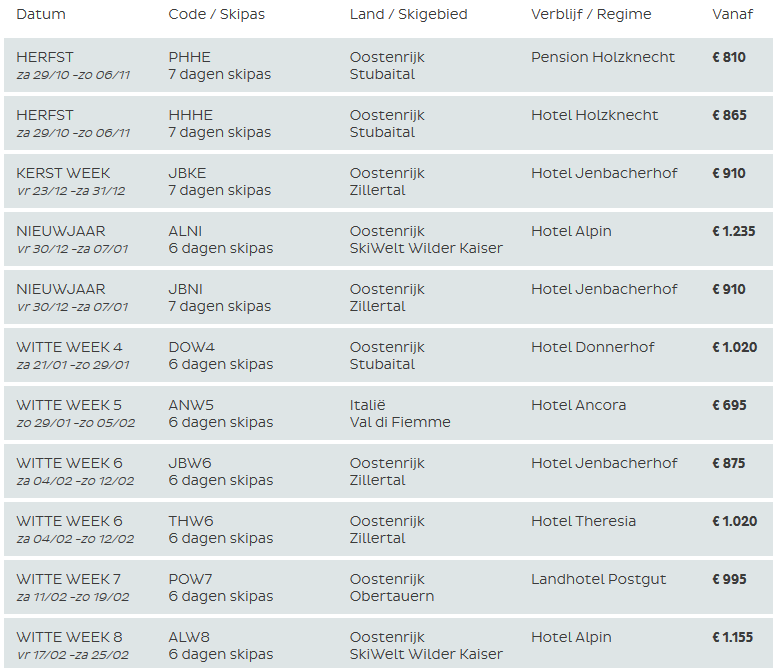 WINTERSPORT > Skireizen in groep > Vos Travel Ski & Snowboard > overzicht weekskiën