Hét reisagentschap van Beveren en het Waasland
Joly Travel
Doorlopend open
ma-vr: 09u00 - 18u00
za: 09u30-17u00
Tel: 03/755 01 74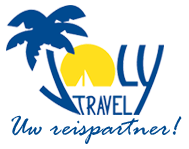 Orlando
Orlando is de grootste "pret"-stad van de wereld, met meer attractie-, thema- en waterparken bij elkaar dan waar ook ter wereld. Er zijn uitgaansgelegenheden te over en dat geldt ook voor de mogelijkheden op winkelgebied.
U vindt hier in de omgeving talrijke parken, tennis- en golfbanen en diverse musea voor de kunstliefhebbers maar natuurlijk kunt u ook een bezoek brengen aan o.a. Disney World, Sea World of de MGM-Studio's. Het Epcot Center, waar men u zowel met het verleden als met de toekomst confronteert, is zeker de moeite waard.
Afkoeling en veel plezier garandeert een bezoek aan Wet 'n Wild. Ook kunt u een kijkje nemen in Cypress Gardens. In ongeveer een uur bent u aan het strand van de Atlantische kust of de parelwitte stranden van de Golf van Mexico.
Reizen USA > Info steden USA > Steden Oost-Amerika > Orlando